"Mini-Otter"
///////////////////////////////////
"Mini-Otter"® SuperCub, Trials Motorcycle...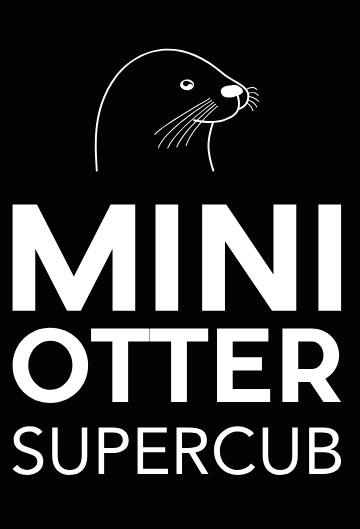 A Veloatalier® Product.
~~~~~~~
The story of how the little bike was built and then got dismissed by the Sporting Motorcycle authority, the ACU, as an object that was un categorized, and so the machines got banned from competing in any of their trials, so then also got dismissed by, anyone that had not taken a ride on the little machine.
Basically it was too good, and put a lot of machines that had cost at least five times the amount this little bike cost to build to shame.
So commercial pressure has left it with nearly nowhere to compete here in the UK.
So the little bike has left these shores for a while, to the Isle Of Man...
But they will be back the
"Mini-Otter"® Super-Cub, trials.
15/08/2019...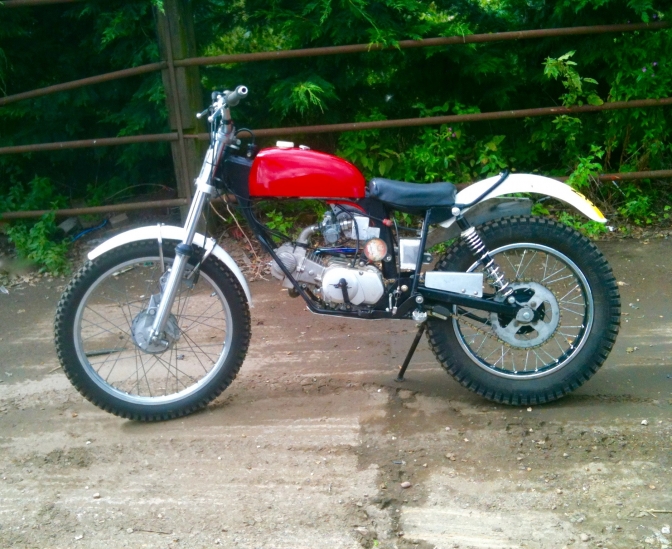 Brian brought the "Mini-Otter One" over from the Isle-of-Man for a visit...
And for a family ride out ... Both Lee and I had a ride on the latest development...
And I must say it now ticks all the boxes has a superb clubmans machine.. The development has paid off.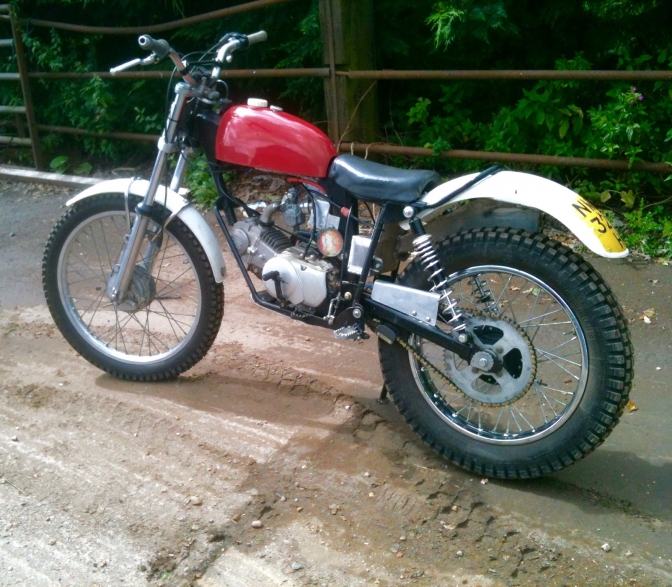 This little machine was Not designed has a Pre65- or twin-shock machine..
But was built the way I wanted the bike...
And not to fit into categories...
It is what I envisaged as a concept to build a nice little machine using what was available at the right price...
What is wrong with that?
~~~~~~~
Another update that Brian has done is to fit new rear shocks the Ultimate no less from NJB...With two inches of adjustment...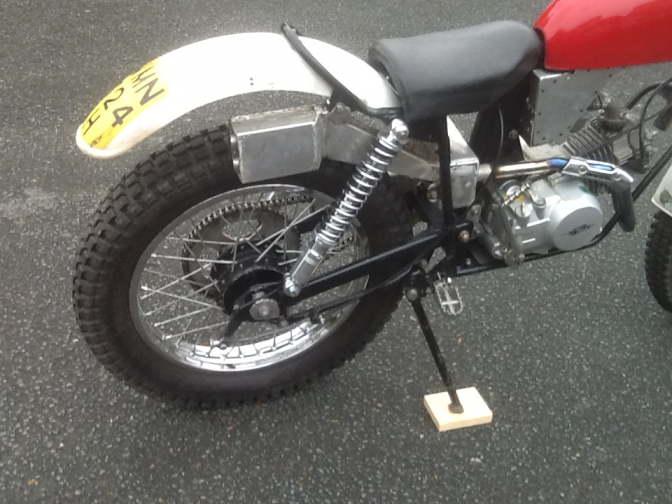 Need to lengthen the propstand now Brian....
21/03/2017.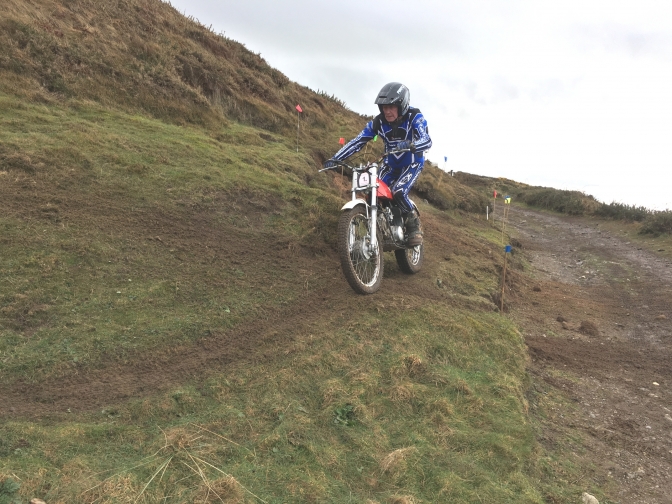 Brian Bedford Isle Of Man,
riding the development "Mini-Otter" SuperCub, trials machine.
~~~~~~~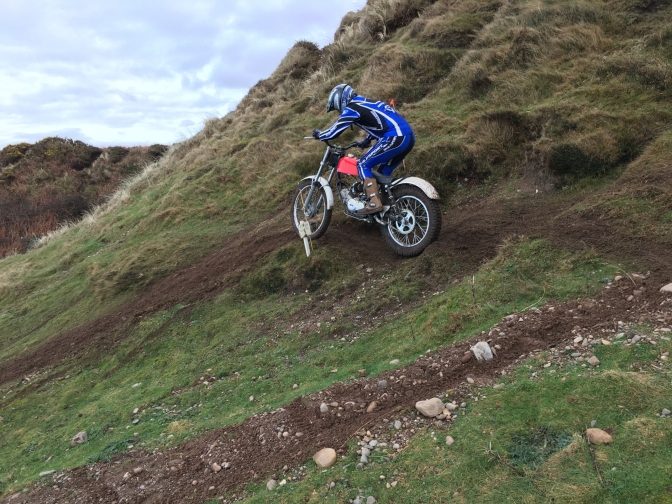 Photos Courtesy Stuart Bedford IOM
~~~~~~~
Brian Bedford aboard the "Mini Otter"® "SuperCub Trials "in the North of the Isle of Man.
Last Sunday.21/03/2017.
~~~~~~~
More Photos Later.
21/02/2018.
Updated Machine with new features.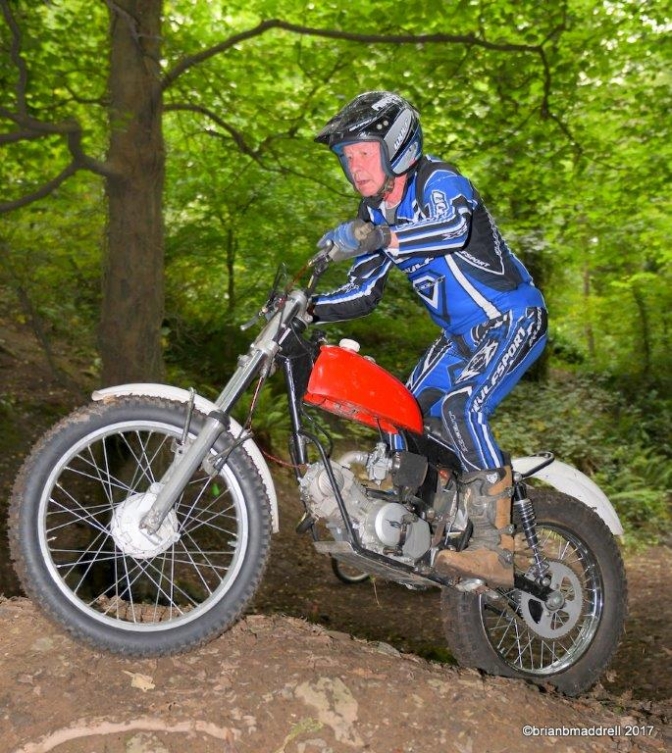 Photo Courtesy Brian Maddrell...
List of updates at bottom of page.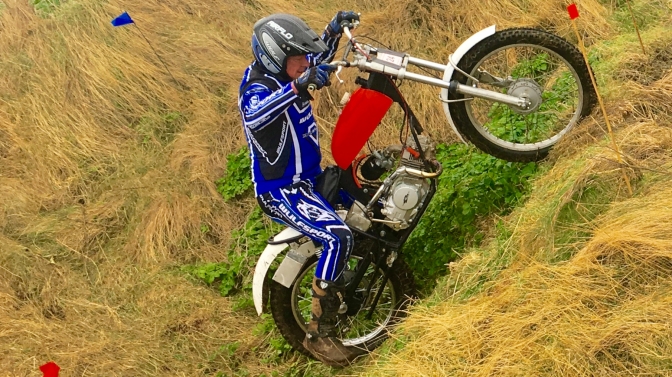 ~~~~~~~
Wow, hang on there Brian, as the bike got that much power!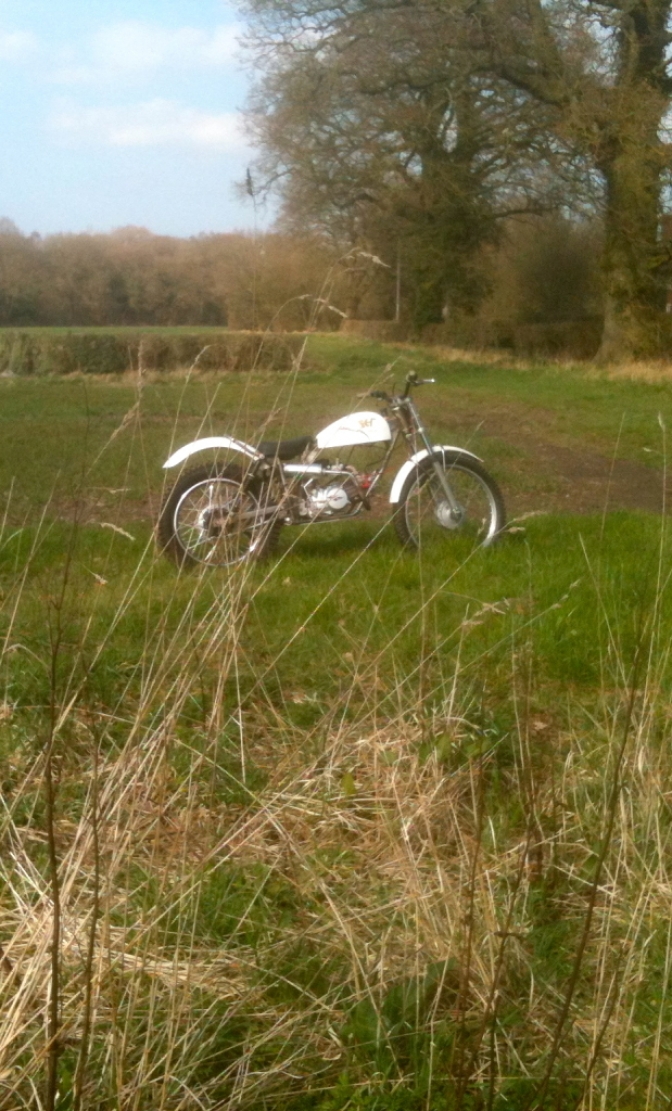 "Mini-Otter"Super-Cub enjoying the Springtime sunshine. 2014.
OK. This is the start of what could be an interesting project, and could we hope spur greater numbers to take up the sport, of "Classic type Motorcycle Observation Trials", on a machine that they can afford to build buy and run...
Is it a "Dream"?
Well we won't know unless we try will we.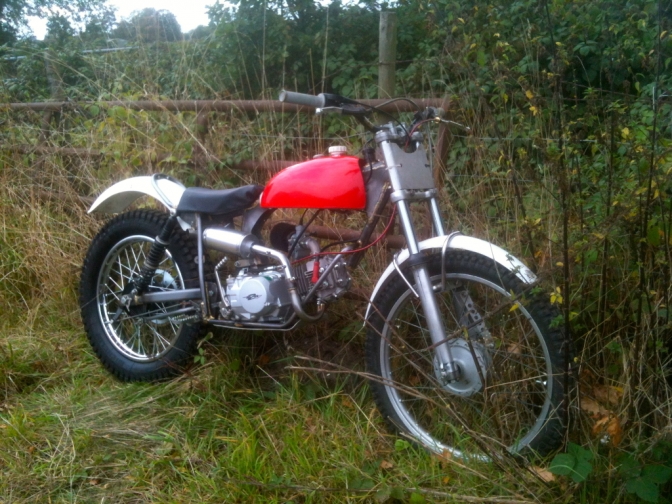 The"Retro" looking little bike is almost finished now September 14th 2014... Just need to do more testing on the bike...
~~~~~~~
And Below, 04/01/2017.
The "Mini-Otter"Super-Cub, Trials" in its final guise.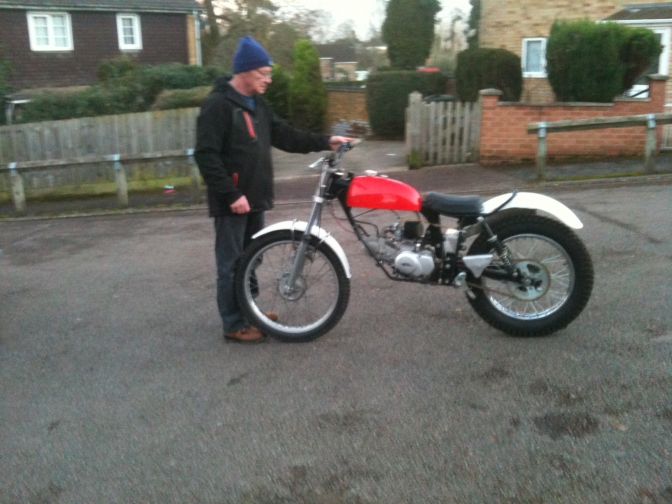 More of the latest pictures at the bottom of the page.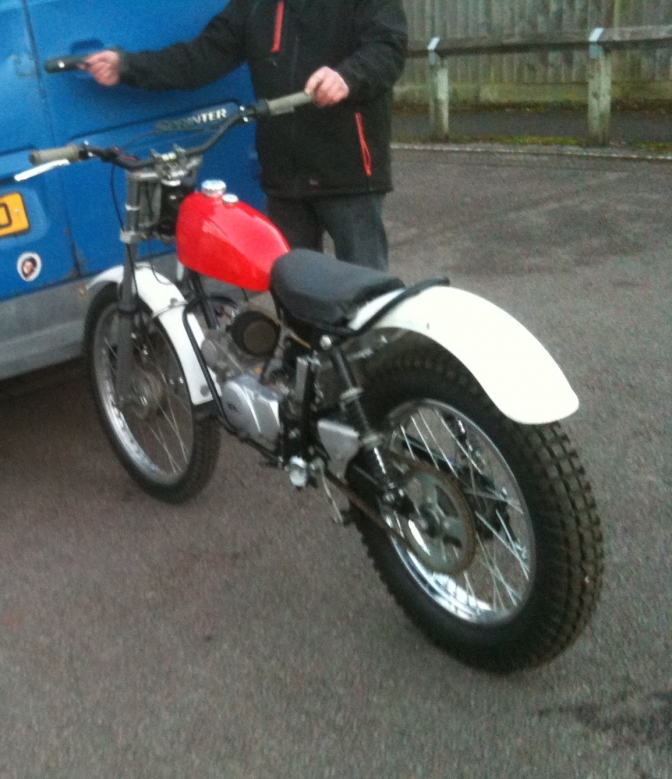 I like that little bike just as it is, Dont You?
Retro Classic looking, "Mini-Otter"®
"Otterman 2010©"
March 30th 2015.
This is with one of the alternative tank covers fitted that can make the vision of the machine different in some peoples eyes.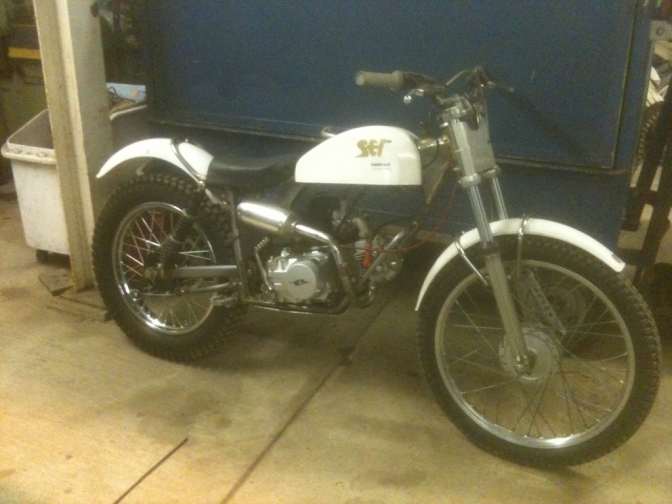 The "Mini-Otter" Super-Cub, Trials in "Twin-Shock" guise.
~~~~~~~
Now back to the History of the build.
18/MAY/2014.
OK. Here is a walk-around of the New "Mini-Otter" SuperCub.
Enjoy. Test Video on News Page.2012.
~~~~~~~
So here is a few images that have passed by us while trying to invent this new concept of a cheaper to build... New trials bike.
Is the "Mini-Otter"Super-Cub, the one? Don't Know, we have to build and test one first.
And then see if anyone is interested!
Frame tubes are on the way from Reynolds, sketches are done, drawings will be done next week, and then we start the frame for the first Machine.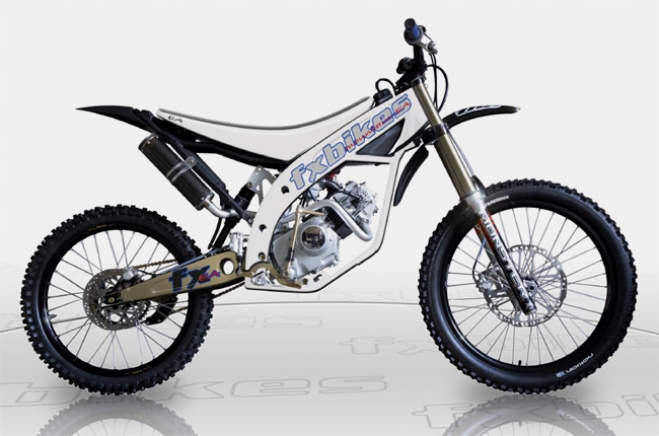 This was our first thought of using a Pit Bike engine, as they are cheap and available.
But would they be up to the job?
So the idea is to make the "Mini-Otter" frame sit tighter around the engine and with lower seat tubes achieve a seat height of around 26". This will mean that the machine could be ridden by both young and old.
We will try and source most of the bits from Taiwan, and may have some frames made off-shore, if it works out cheaper. But this is a while off, we just need to get a bike up and running.
01/02/2013.
OK a rapid update, because as soon as this page went live, the response has been unbelievable!
Well the Input to the idea as been quite something? Could we fit different engines into a frame like this? Well we could try,
A Bantam engine has been suggested as an alternative to the readily available 125-140 cc Pit Bike engine units.
Dad's would love to have their sons competing with them in a trials class on a Sunday morning, and a bike that they could get, or build, cheaply would be the ideal.
14/2/2013
The working drawing for the frame is now done, and we await the tubes from Reynolds... We are still firmly in favour of using the frame tubes to carry the fuel, and making a "mock tank-seat unit in a slightly retro style, to be in keeping with the Project.
28/03/2013.
OK ..The update on the"Mini-Otter" SuperCub, Trials project.
After more consultation with my good friends, I still find it may be feasible to, build a Pit-Bike, engine version of the "Mini-Otter", as well has one to take the CG copy or Bantam engine as an alternative.
This is Jon Bliss's "Pit Bike" engined machine, 150cc engine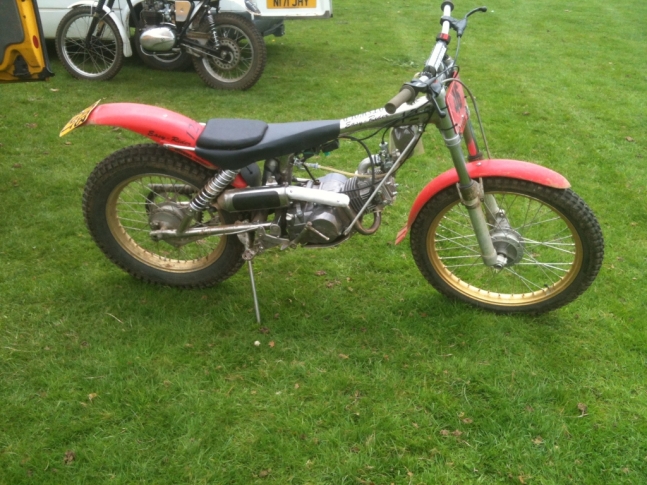 And a shot of the other side.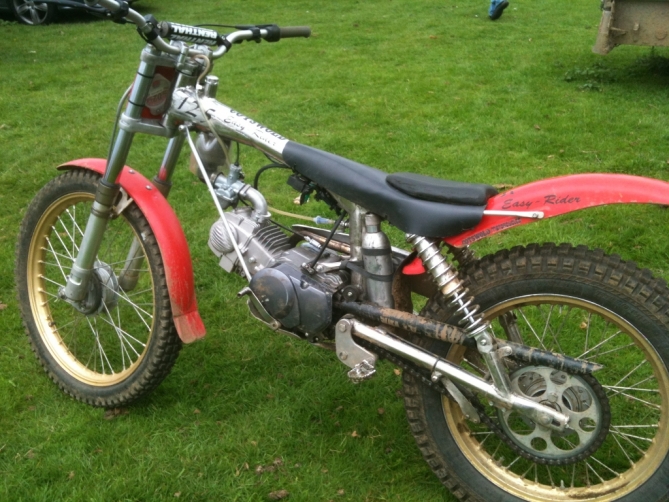 Note that the fuel is in the frame just as we intend to do. But I will construct a dummy tank seat to make it look more like a Mini Otter trials bike...,
OK... We now have a engine unit for the "Mini-Otter" Super-Cub, "Project".
Tubes are here just need to set the jig up from the drawings. But now I have a motor it will be a lot simpler?
XY 140 motor.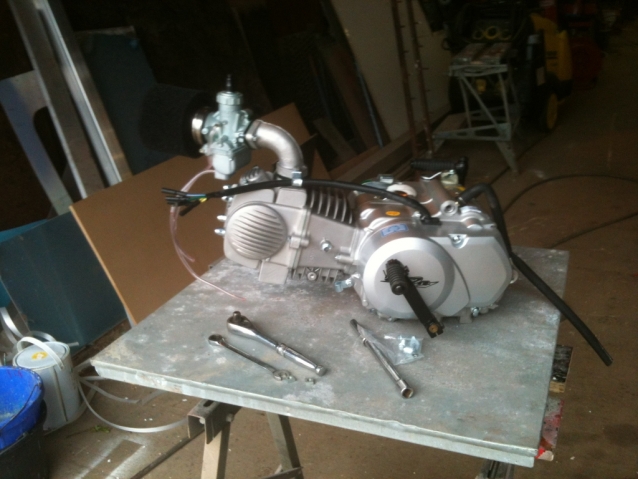 I have fitted the carb on the same way as Jon Bliss has his, but this may change when I have the frame tubes around it!
From the drawing of the frame the engine is fixed to the frame with laser cut bolted plates.
A short front down tube branches out to detachable twin cradle tubes, which are attached to the engine skid plate.
Fuel is carried in the top tube, but a Ray Small tank will sit onto this, it will be left dry if the capacity of the top tube is enough.
A small bolt on sub-frame will carry the seat and mountings for the rear shocks, but there will be two seat heights available for this frame.
It looks good on paper, or should I say CAD, but we will see.
28/7/2013.
OK... There has been progress with the Honda copy "Mini-Otter""Super Cub Trials" CT140, engined trials .
This is the bike with the engine from the above picture?
So progress with the SCT140 engined bike has been good this last couple of days, has can be seen from the photo. There has been problems, as you would expect with a new prototype build. But I must say that this I-Mac has been a God send for once, as all I do is take photos of the days work, and then spend a couple of hours the next morning comparing details and what looks right, and what looks wrong. And so far it has saved me days, with the development.
If all goes well this next week, I should have the frame and swinging arm finished, and be ready to start the build up, I have set myself a deadline for the third week in August, so need to get a shift on!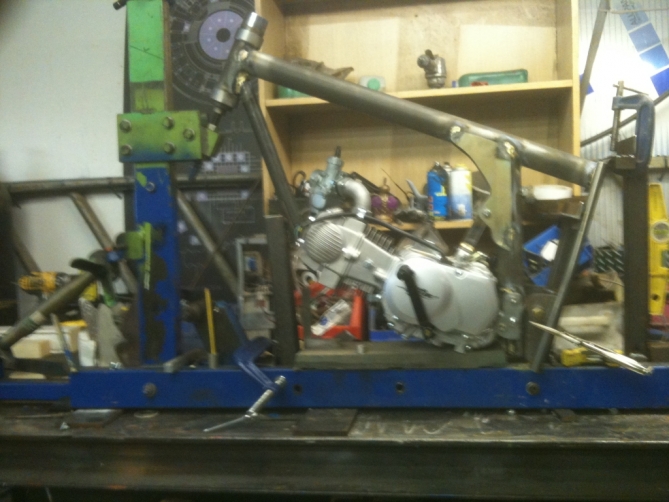 OK, You can see it is pretty much has I described it earlier.
The Carb will probably now get turned around, as I think it will fill the space better.
There are twin engine sling tubes, to run under the motor and pick up with the foot peg fitting on the motor, and run through to the footrest mounts on the bike frame, these are now welded and not bolted.
One thing I may have to do with the engine is to run a engine oil supply pipe from the rear of the engine, but we will see how the motor sits on the wheels first..
04/08/2013.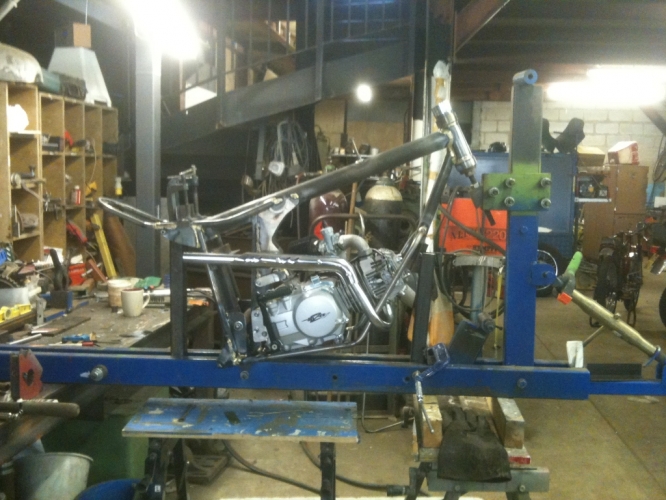 I took the frame out of the jig tonight, and it looks better by the minute.
It is ironic that I chose to build the frame I have for this little bike?
Well I had set the jig up for the Mike Mill's frame. And had already sat the motor into the Hubbo frame that I had I told mate Chris the same and he said really...
Anyway looking at Lee's CAD mock up of the frame for the CT140, engined bike, I could not believe how close to the "Mike Mills Legend" frame it was, just the extra seat tube that made it an Otter configuration.
Well I have used most of the data from the CAD and the measurements line up nearly the same as the frame I had the jig set up for! The tubes just seemed to drop into place!
Well what is strange about that you say, as Mick was a man at the top of his game as a frame designer..
It was not until I started to research the subject, that I realised that Mick had designed the "Jerred Honda" TL 200, (Now has its own page) in the early 1980's, and this frame was not a hundred miles away to what we have here.
All I can now hope that, this little bike performs as well has it looks, and I will give Mick credit for part of the frames design, for it has his influence.
Just can't wait to get it up and running now.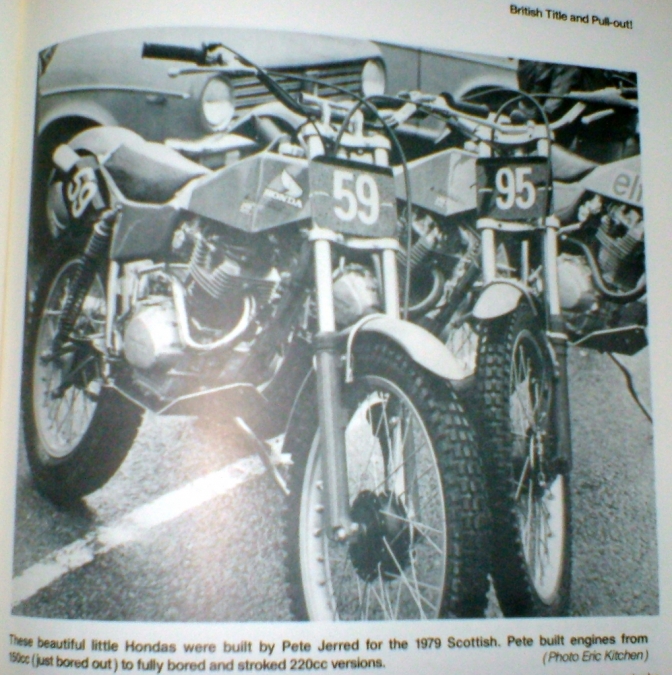 Thanks Andy M. and Eric Kitchen.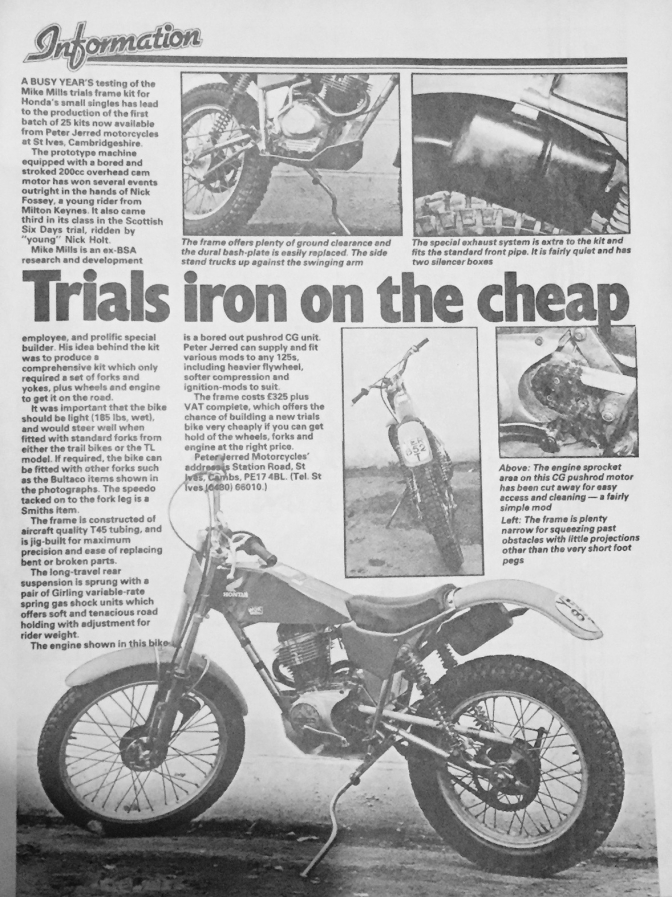 Courtesy Alan J, and his property.
~~~~~~~
Nov/3/2013.
Well after what seems like an age, I am back working on my pet project of this year.
The "BSA Otter" Bantam was only started while I was waiting for the wheel plates for the swinging arm of the Mini-Otter to be laser cut.
Well I eventually gave up the wait, and made my own the old fashioned way, with band saw and file.
This is the result.
So I now have two, if not three bikes to finish before Christmas.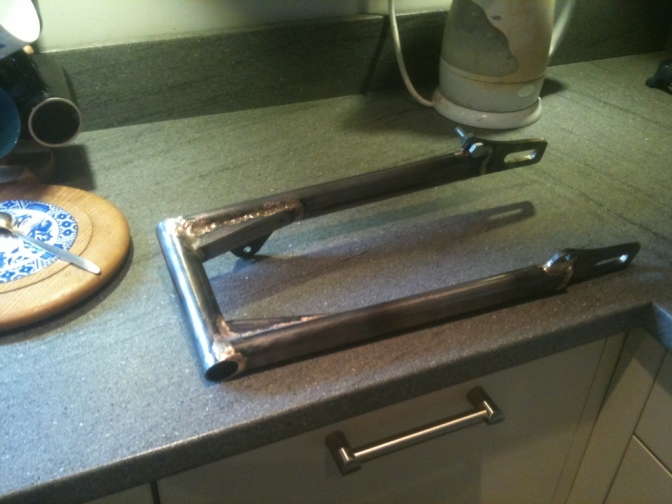 Sun 8th Dec 2013.
It's been a long time, but you know me, I always seem to take on to much.
Well I have this last week got together most of the parts now to finish the
"Mini-Otter"-Super-Cub.
I have spent the morning trying to piece together what I have got.
Now with the interest shown again this week, I want to try and get the bike finished by Christmas, in its bare state I might add, so that the boys over from the IOM can try it, and get it to a couple or more trials over this period.
Anyway... Here is a shot of progress made, most parts seem to fit very well.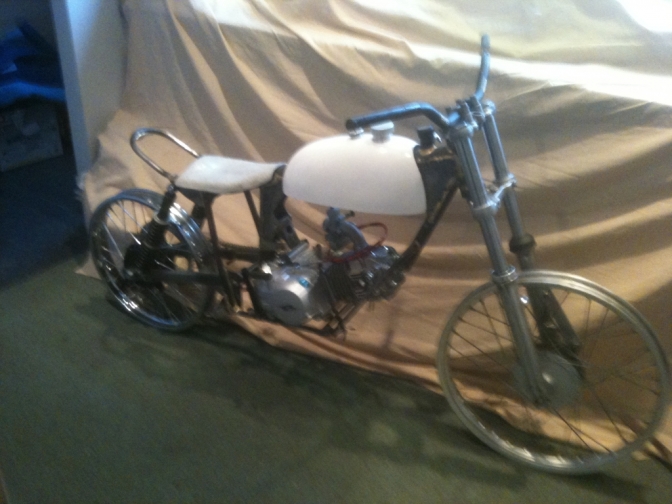 I have built it with the retro-look, because that is how I like it, but this frame could be dressed in any fashion. Triumph/BSA forks are the short ones, but I have got longer, and these will be tried too.
I have a 12 tooth gearbox sprocket on at the moment, which I think should be OK, but will fit a 14 tooth if I can get away with the gearing.
Fuel is in the frame tube but the tank can be used to carry extra if need be, just like the tank on it, but that is my taste has I say.
May 2014.
The "Mini Otter"SuperCub Lives!
Today we fired up the Mini-Otter for the first time.
There are a few problems.
The Gearing is too high.
And the kick-start fouls the footrest, but other than the front fork oil leak and a bit of tweaking, I like this little bike very much...
Colin Jenkins,the first test pilot of the machine is only small in stature so you can see that all we set out to achieve has been proved right, Built for the young, small of stature, and the more mature rider.
Colin is "seventy years" young, so this proves the point.
I will now get the problems put right as quickly has possible, and have this morning ordered a larger 64 tooth rear sprocket from Amanda at "Trialsbits".
I am just searching for an off the shelf solution to the kick-start problem.
Now found with a brilliant stainless steel unit from.
"pitbikeparts.co.uk"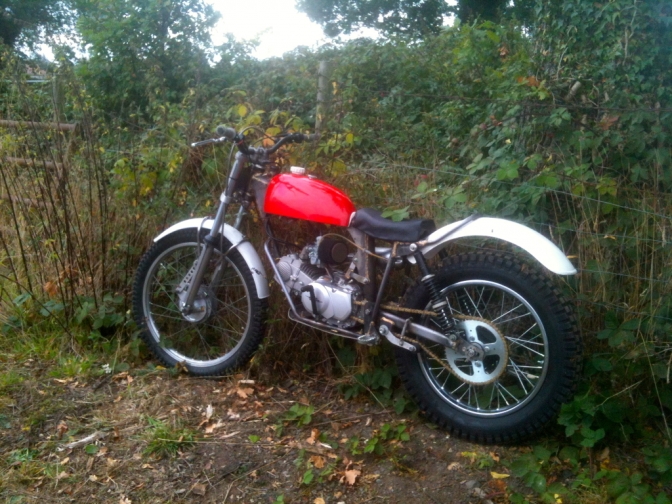 I think it looks like a Retro-Classic Little bike, do You?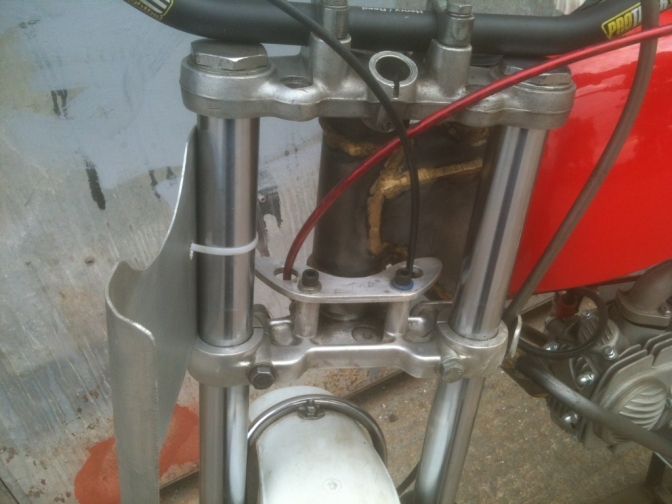 Steering stop details on the Triumph BSA four stud forks.
I have kept everything as simple as possible.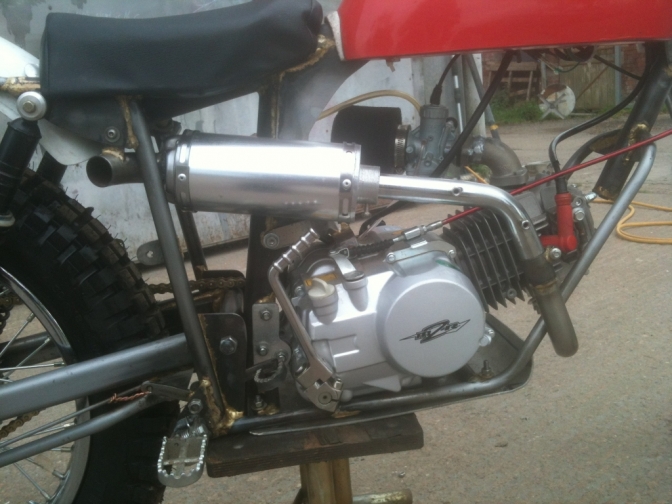 This bike should be light enough for young and old to ride, and to enjoy the experience.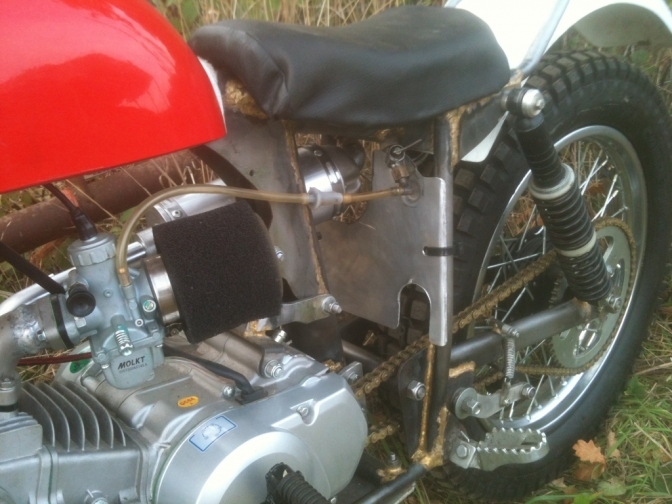 Has You can see the fuel is in the frame, the tank can be functional, if needed in a longer trial, Maybe the Sammy Miller Series, we hope 2016...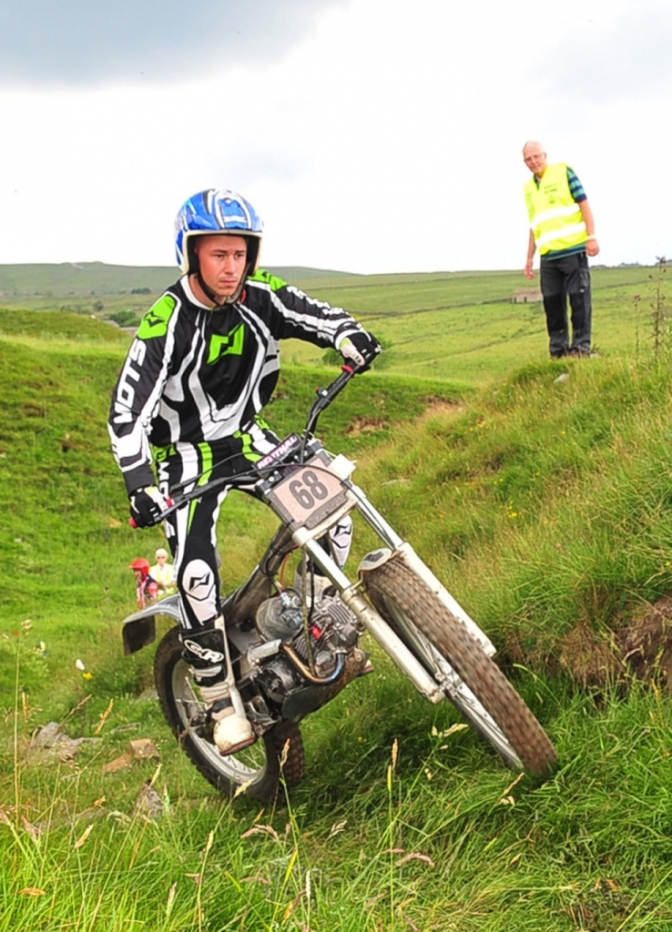 Here is a shot of Ben Wilmore riding the second Cotswold Super Cub Trials bike that Jon Bliss built, This is actually a Sammy Miller Series trial the Ilkley round 2014.
Deryk Wylde kindly sent me this photo taken by Barry Robinson courtesy (Offroad Archive}
25/Feb/2015.
You can see that most projects when working on your own most of the time takes time.
Well I must be honest, that after the shock announcement, by the ACU about the fifty frame rule in the Sammy Miller Series, I had lost faith in this little bike.
And talking to my friends, between us we had decided to build a bike more suitable, without the aggravated response we got for what we were doing, trying to build a cheaper "Retro-Classic" style trials bike to have fun on.
So I collected all of the parts and I do mean all to put a Honda TLR version together.
Then Brian came over for a week from the IOM, and basically shook some sense in to me.
He and most others that have clapped eyes on the little bike, can't believe how good it is.
So Brian set out to start and refine the basic principle of the design.
We took a long look at what was wrong with the little "Mini-Otter" Super Cub Trials, and with determination set out to put the faults right.
The first thing tackled was the abomination of a rear brake pedal that I had created, it never was going to work the way I had it.
So Brian spent a day trying to sort out the right hand sided pedal, and by the end of the day got it to work and miss the kick-start lever, that was the main problem.
But It was not a pretty sight, so we decided to make a left hand pedal that would solve all of the problems, but would mean that the gear change pedal would have to remain in the forward position.
So I shorted this lever as much as I dared to one bring the lever closer to the foot, and two, reduce the leverage and force placed on to this pedal with a size twelve trials boot, not that the construction of these parts are weak but, with the four gears with no neutral in between them, a tendency is to try and find one, just a mater of getting used to the box really.
Anyway, Brian spent the next day designing the bolt on left hand side brake pedal assembly, giving me the nod when he needed parts machining and bronze welding.
We stayed at the workshop until dark trying to get this finished? He said he would measure the cable that was needed and ring his old friend from the past, to see if he could make up a cable for the project.
This friend was Dave James of JJ Cables (formally T Johnson Cables) the guys who used to supply the B40 GB engines to "Otter" builders.
Anyway Dave was contacted early on Monday morning, and after eventually finding the workshop, Dave made us a cable up to our speck in about five minutes while we were chatting.
Superb job and by the evening it was fitted to the bike and worked perfectly.
The other job that needed sorting was the ignition timing, this is fixed on these little engines and there is not a easy way of retarding it slightly for the use of a trials bike.
Well I had spent hours on the net trying to find a solution, and eventually found someone that had tackled this problem.
The only way was to take some metal from the pulse magnet, and reduce it in size.
So we spent a happy couple of hours on Sunday morning attacking the flywheel with a Mini Dremle cutting disk. That's the end of my New little engine I thought, but put on a brave face.
When Brian attempted to start it later in the afternoon I was ready for the worse!!
But first kick and it fired, second kick and it sprung into life, and ticked over like a donkey engine, Brian bragging to the lads, that this is what a well set up trials bike engine should sound and perform like.
I was speechless and amazed, absolutely superb, I want one of these. Oh it is mine sorry... But you to could have one.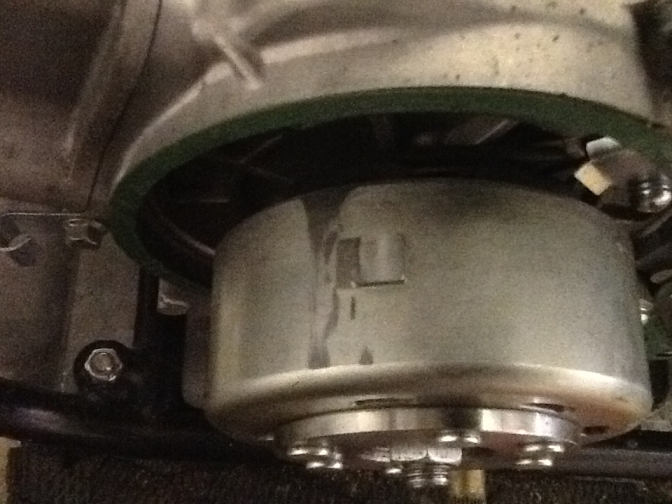 Flywheel modification, 4-5 mm of the front of the pulse magnet worked for us,
and also Bill Todd and Colin Fargher.
Photos of development. below.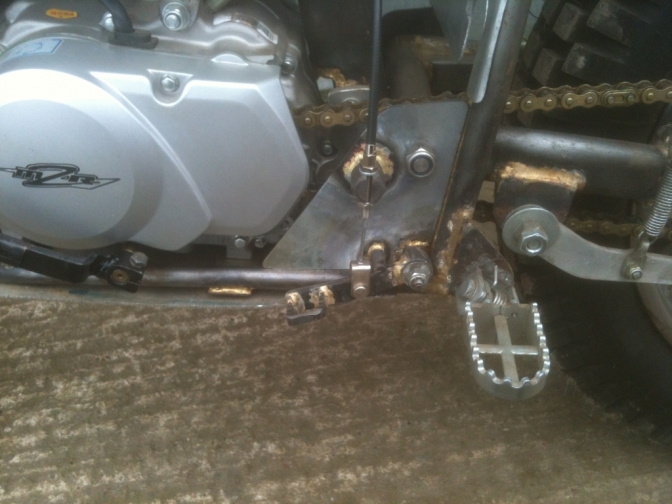 New Brake arrangement. Pivot point could be wrong looking at it now.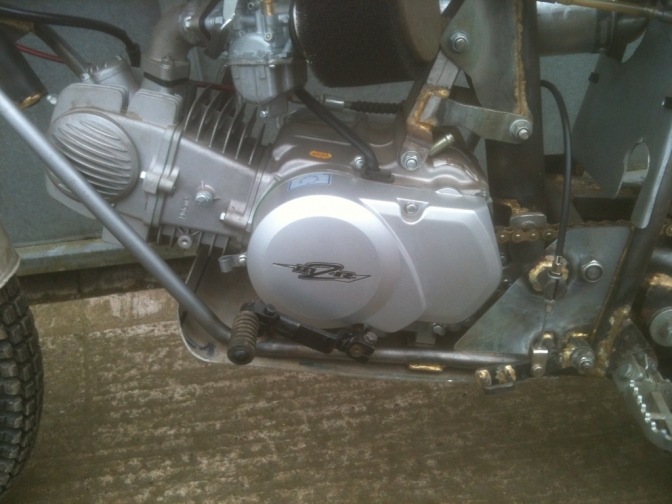 The leverage on the pedal will not be great enough, unless the pedal is longer or the pivot point moved rearward, or even both.
But this was only second development of this item, some things work first time, some never do.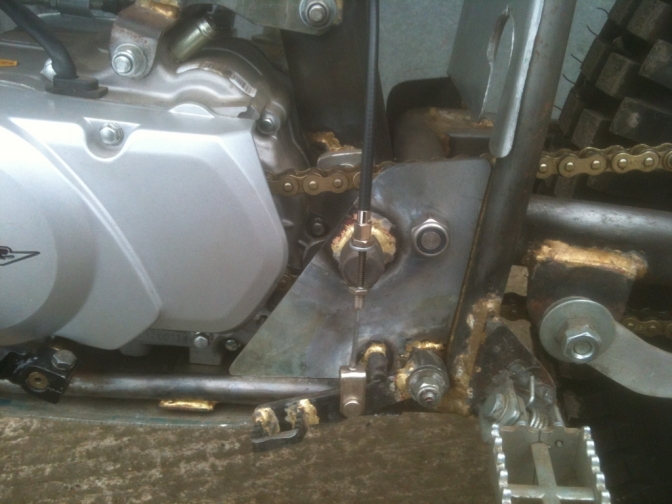 A mounting for the pedal attached to the rear of the footrest, would be better.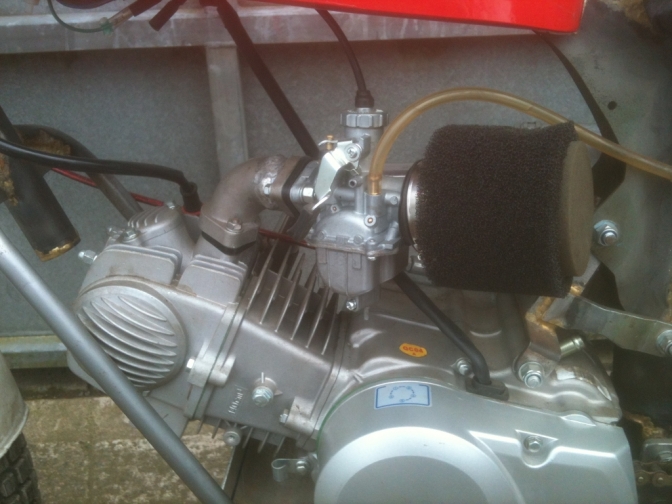 We have now fitted a Mikuni VM 22 carb to the bike, which is a far better choice for the power characteristics that we need for a trials bike.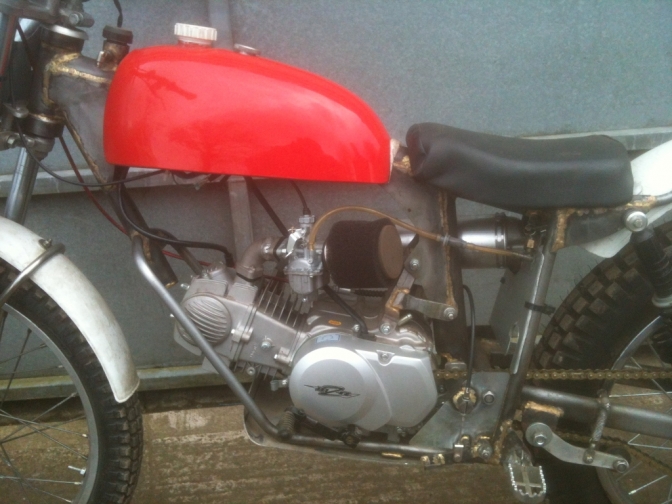 Although this little bike has been crafted with it's "Classic" look tank and seat, there is a more contemporary frame top tube cover and seat in the pipeline, One piece and two, and you could always mix and match for the look you feel is best.
( Now that only Two will be ever built the bike stays as it looks now, there is little point changing it's appearance... 2017)...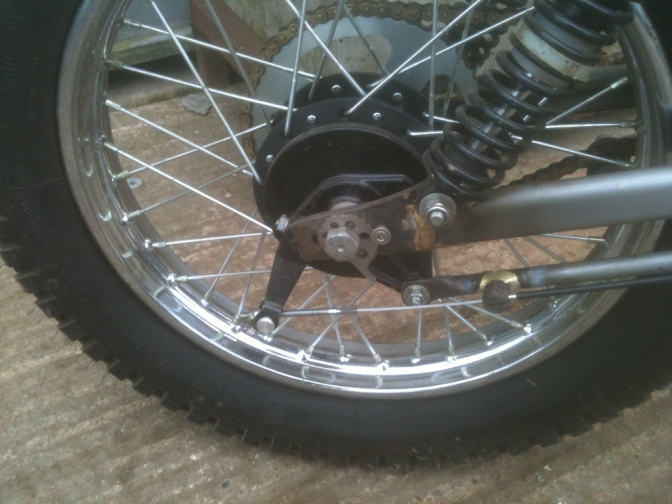 Back brake arrangement is fine, only needs a Jialing brake return spring fitted.
to return the cable.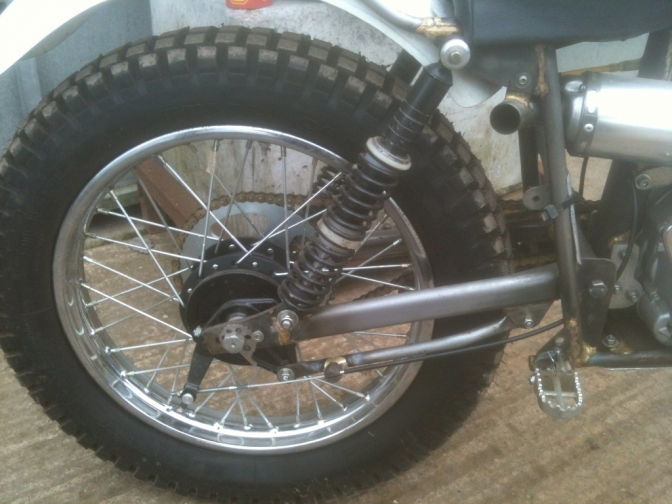 Cable run looks good, with the standard silencer fitted.
14/02/2017.
Brian as been playing with the back brake pedal again, he thought there was not enough leverage for it on the left-hand side so has moved it back to the right.
If it works OK, it just needs another lever making with the curves of the white lines.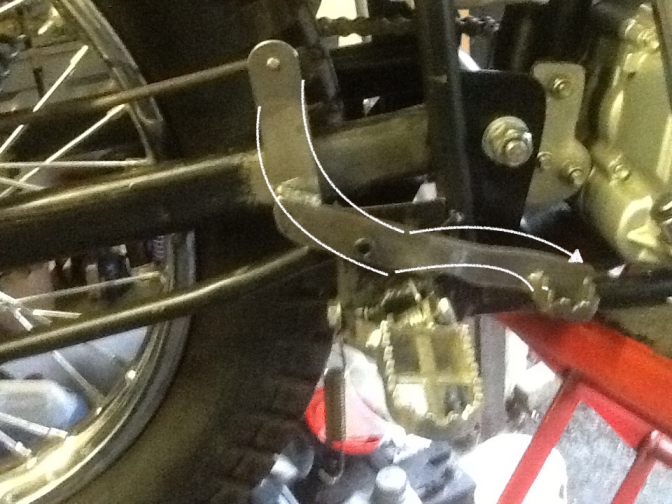 I suggested the shape outlined.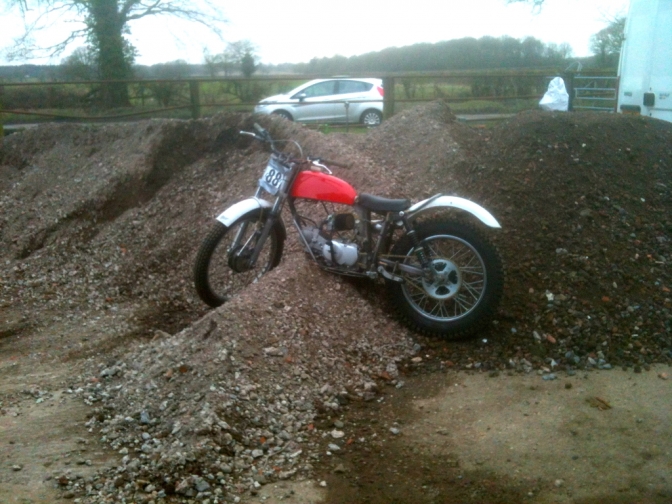 Well if you can't find sections handy for testing, you make your own?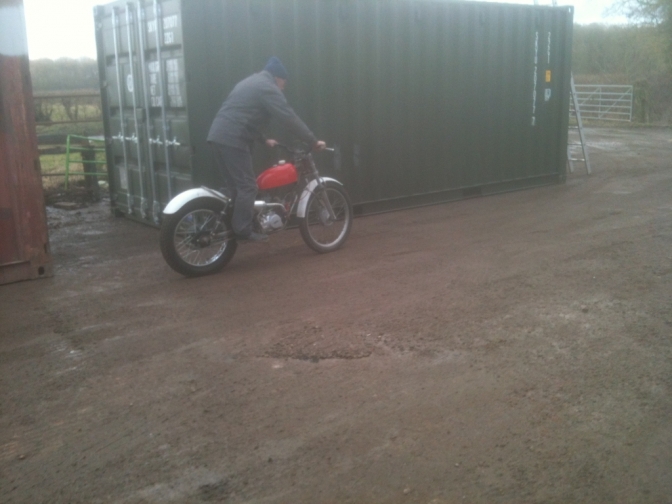 A Frame to fit one of the Super 140-150 YX, or Zongchen pit-bike engine units in, and build a trials bike with a look that pleased me.
"That was the design concept."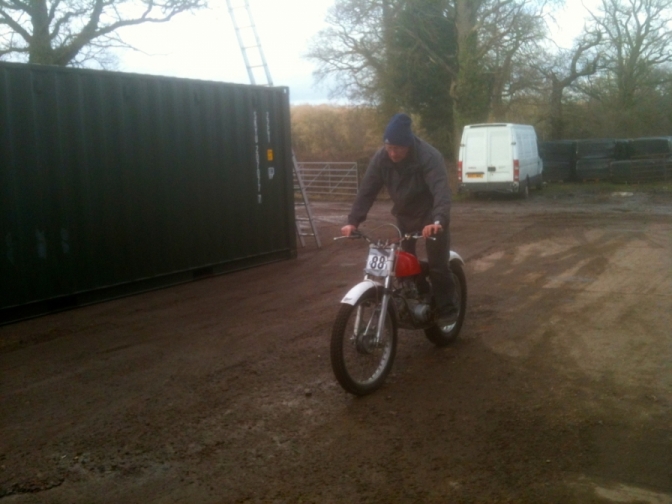 Now we have this little bike running to the way we want, and steering to the way we want...
And riding to the way we want, it is, time to paint the frame so go to that page.
The steel rear rim will be left in place on this little bike?
Well you can buy these New rear wheels for £100 including back plate.
And the whole operation has been to build a Cheaper to put together little
Classic" type Trials Machine.
11/12/2016.
After neglecting the little machine for some while it is now being built back up out of the "spares department." and is off for asesment in a secret location, well the Isle Of Man...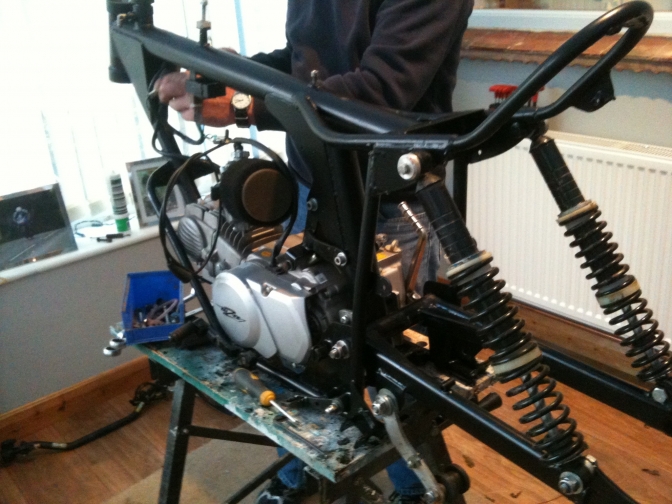 Back out of the "Cold".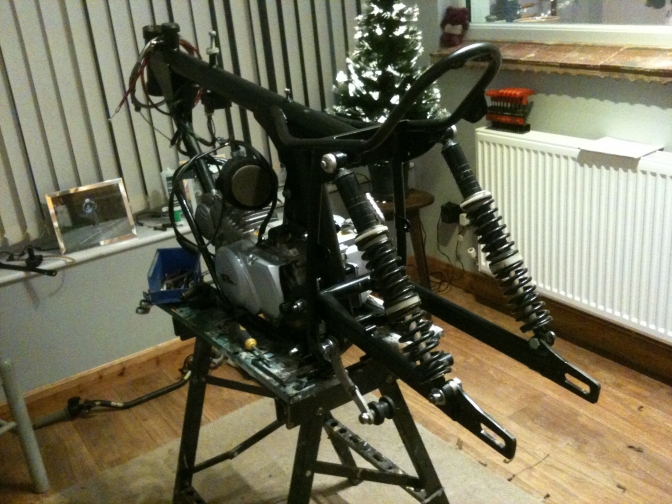 For Christmas.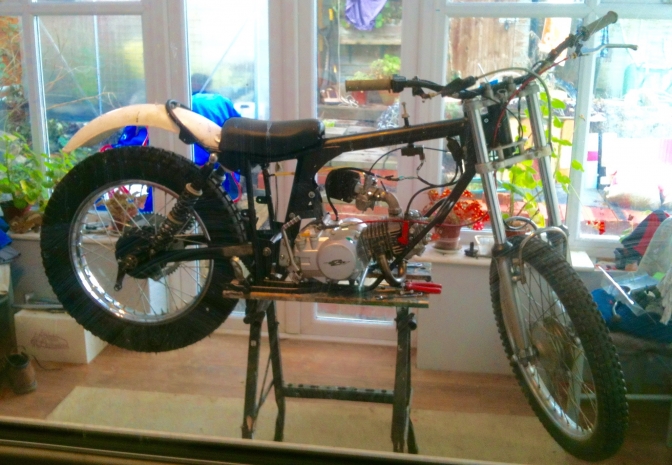 It's A Season to be Jolly.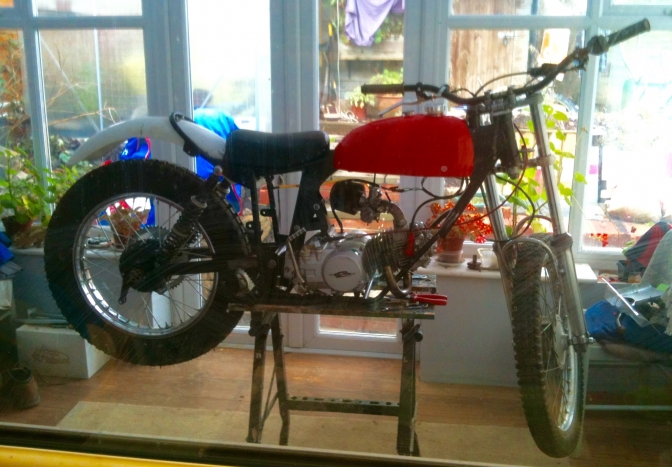 Tra-a-lal-a-lal-a-lal-lal-laaar
More later when shes finished.
Bike is Now in the Isle-Of-Man. And a few more modifcations carried out by Brian.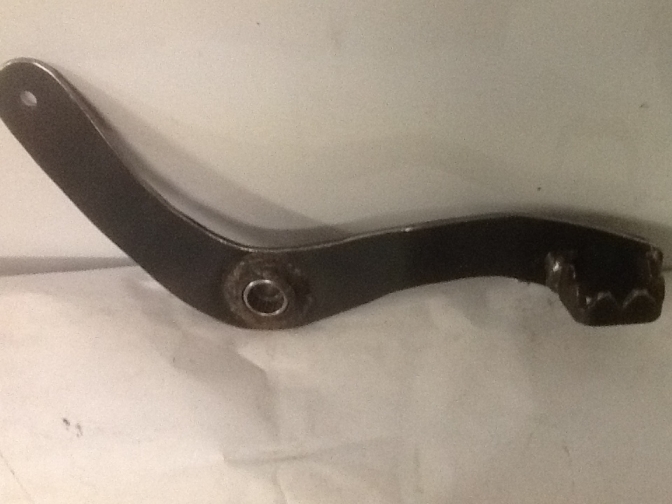 New right hand side Brake pedal.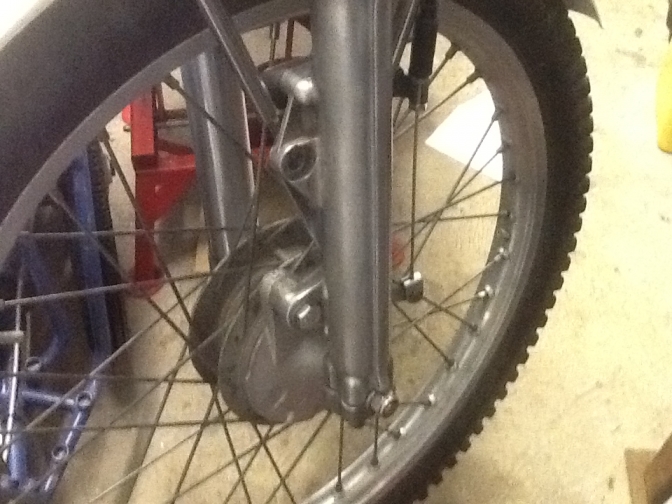 Brian has now done the Mike Waller brake anchor conversion on the front forks, this has done away with the long alloy anchor plate.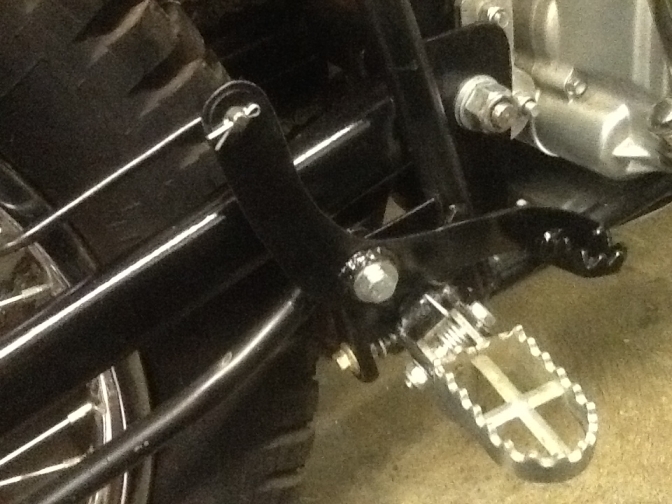 Photos Courtesy Brian Bedford.
The New brake pedal on and fitted.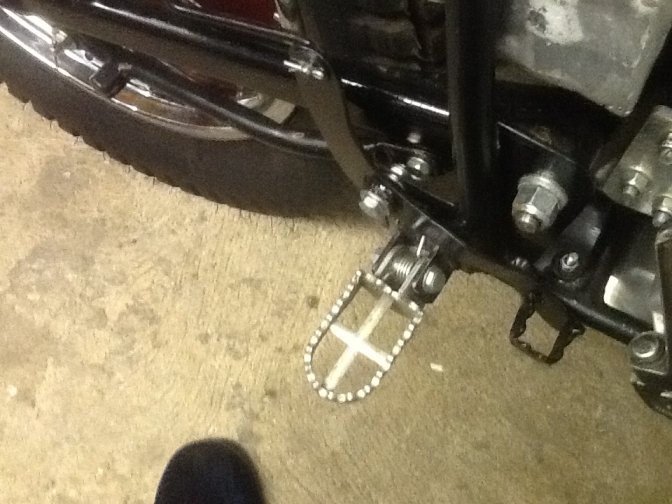 Looking Good.
Brian was out on the bike on 19/03/2017,
And a few little tidying up details, like a pair of new Falcon shock's, and may be gearing down a tad more for the IOM sections. Carb setting up, and the
"Mini-Otter"Super-Cub, Number One is good to go, for its trials career.
~~~~~~~
Bike Back out of its Dusty Corner.
And to be joined with sibbling,
Number "TWO
But Thats it NO more?
Unless you think otherwise?
Now we have the "Foster" "Otter" frames to build, there will only be these TWO Machines.
That is unless someone else builds them?
Lee perhaps? "Veloatelier"®
Patent Pending and ©"Otterman 2010" on the frame used, for this
"Mini-Otter" SuperCub, property of the above company.
~~~~~~
Episode Eight , Of Mike Waller's
BSA Build, "Why"?
Because, Brian has decided to do the front brake anchor modification on the Little "Mini-Otter""SuperCub".
There you go Brian No excuse now!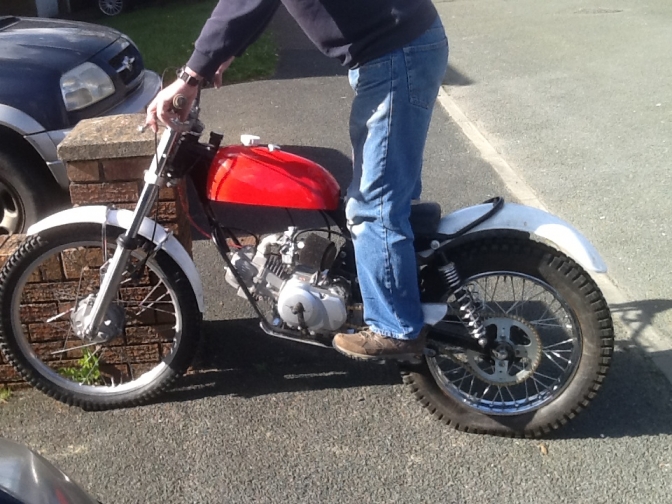 Bike now in new home, Isle of Man.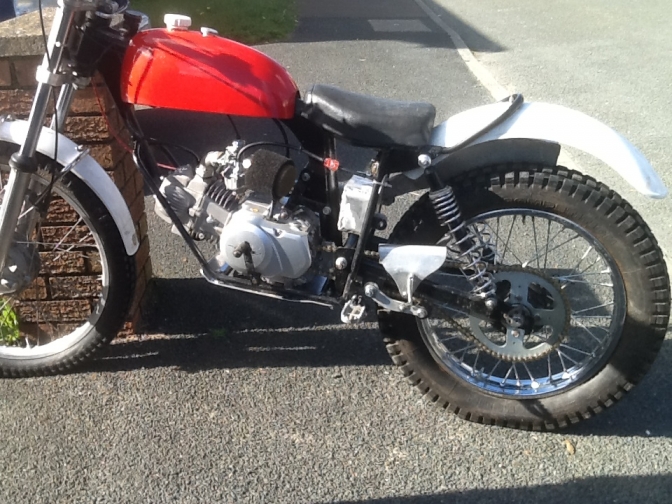 Don't think it is a TT bike though.
Another shot at the rear brake pedal.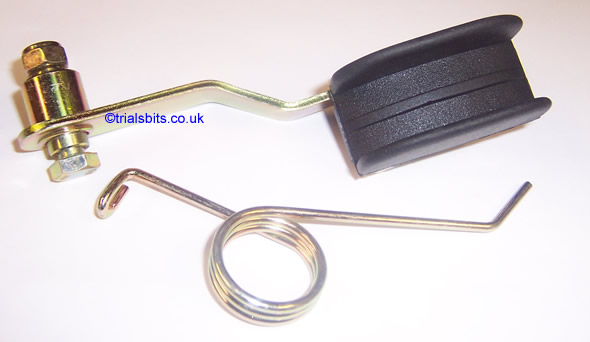 11/02/2017.
I have started on the Second and Last "Mini-Otter", for my personal use.
I have the frame tubes on the jig, but have to leave it a week to get the "00" Foster Otter frame built.
Then the "Mini-Otter SuperCub". will be my priority.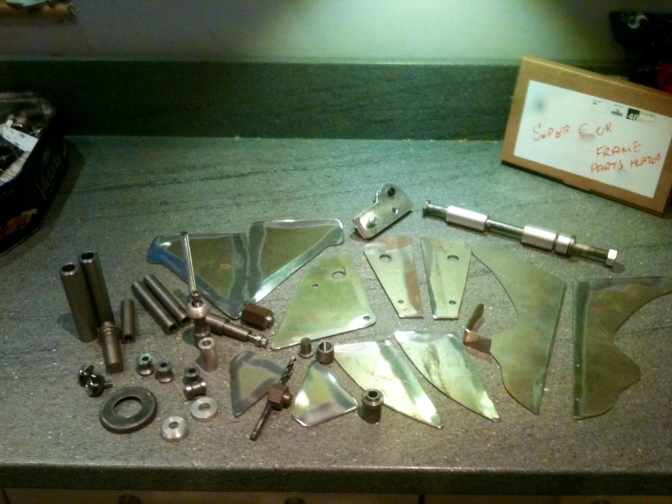 Photo "Otterman"
You can see the amount of work in just hand cutting and finishing the plates and then machining the parts.
And a lot of you would say why bother doing all that on a machine that is quoted very often as being worthless!
Well the people that spout these words have not sat on, and ridden a
"Mini-Otter Super-Cub", or they would change their opinion immediately.
These little bikes are full of fun for young and old, and without being over-biked adds to the equation...
But as I have said this second bike is for me to play on, and the only other way you would now get to sit on one, would be to book a ticket with the IOM Steam Packet.
Shame guy's but you made your choice.
Just take a look at the Bill Todd Square Deal Special page. to see what you are missing with these concepts.
2018 Updates .
~~~~~~~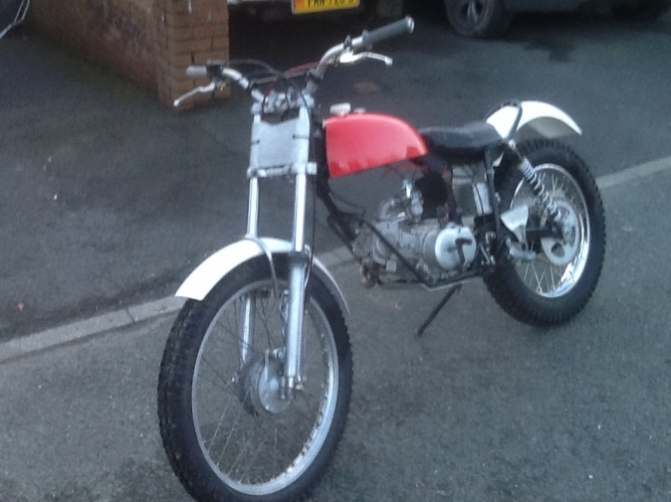 The bike now has six inch rise bars, a flywheel weight, new brake rear lever, a stand, New front brake fixing, revised rear suspension, and New gearing, but the development goes on on a daily basis.
Next Mod a 3 ltr airbox.
~~~~~~~
Information on the development Later and pictures.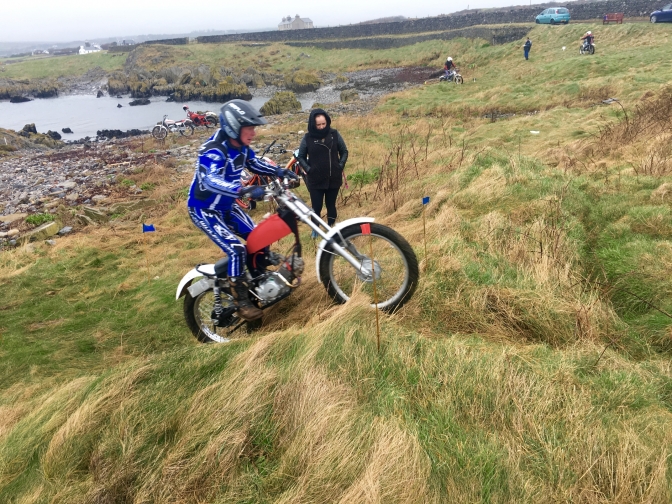 Brian chasing the waves,
~~~~~~~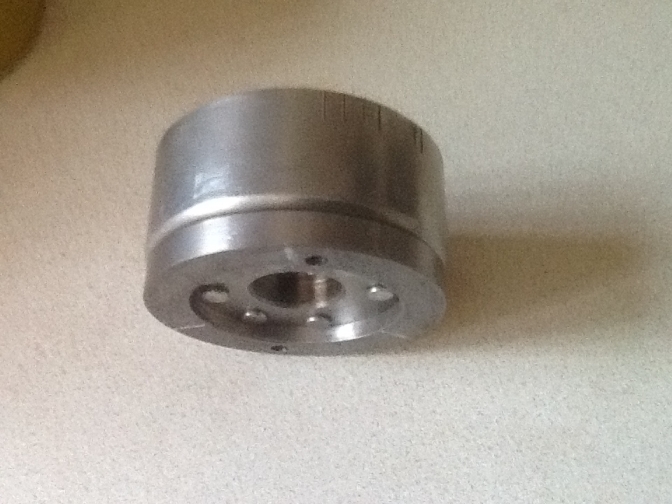 This is the new flywheel weight Brian has fitted to the alternator.
And he says it does make a difference with bottom end torque.
~~~~~~~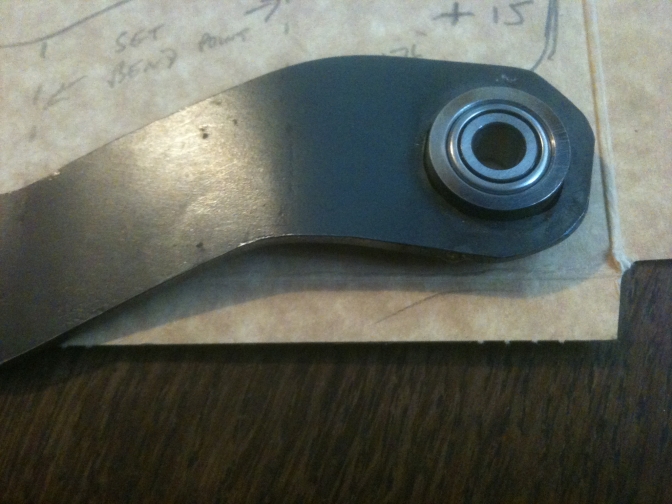 Brake pedal now running on needle roller bearing for better feel.
11 tooth gearbox sprocket fitted using a cir-clip as retainer, instead of the two bolt fixing.
A new 64 tooth alloy sprocket has also been machined and fitted, gearbox has been apart several times to try and get new gears made of better ratio, but they have just proved to expensive for the project.
One inch longer rear suspension units are going to be tried, to see what effect it has on the steering for the Trick riders, over there.
So the development goes on, a air box is next on the agenda before trying different jetting etc.
The bike just needs riding all summer to prove its worth.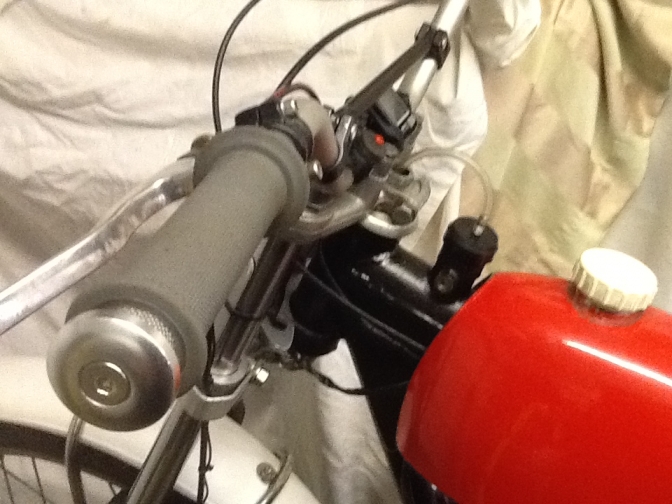 Speedo fitted..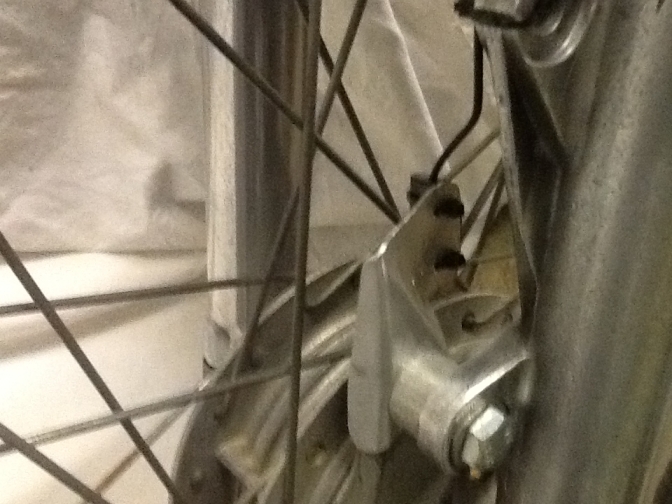 Horn fitted.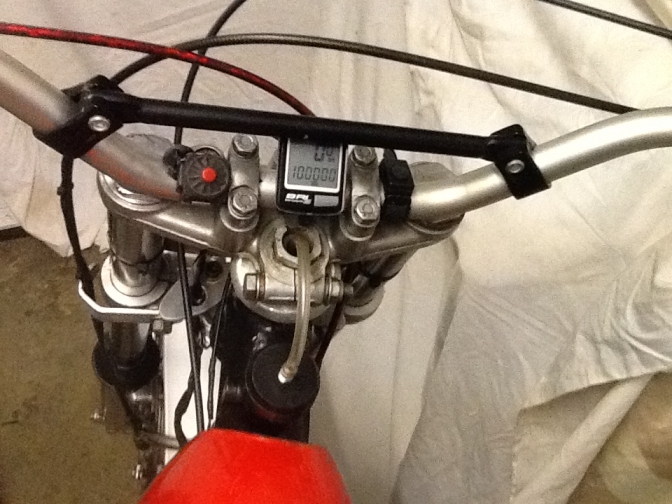 Number plate later with modification.
The "Mini-Otter" SuperCub has now been registered for the road as a recognized
"Mini-Otter" so this is now a Brand of motorcycle from the British Isles.
~~~~~~~
"Mini-Otter" SuperCub trials machine specification.
Frame, Mainly built of T45 seamless tubing with exception of the rear frame mudguard loop, and engine under-run rails that are mild-steel ERW tubing.
Forks, are 1971 type BSA/Triumph so named Four-stud forks. the other alternative is Yamaha TY or Gas-Gas. 38mm forks.
Front Wheel, SH Yamaha TY 175 or New Honda C90 Cub hub and new stainless or alloy rim.
Rear Wheel, Jialing JH125L, or copies of the same, Steel WM3 rim.
Tank (Cover), Ray Small type glass-fibre polyester tank, or air-box modified version.
Tyres ,What are available at the time.
Engine unit, as standard, YX140, or Zongchen 145, at slightly greater cost.
Guards Gonelli plastic (White) or grey alternative.
Bar's, Renthall 7/8" standard trials.
Levers , Universal type.
Footrests, Universal type.
~~~~~~~
The specification may change, after development.
~~~~~~~
This Adventure video just proves how robust these little engines are.
Good Luck with your journey on the little "C90 Cubs guy's.
(More of this on the Mini-Otter C90 Adventure page)
Here is Episode 4, C90 Adventures enjoy and donate.
Updat2021...