We then in the year 2000 get a New build of BSA "Otter".
Sammy Miller and Howard Fawkes from HGV Engineering in Cornwall, decided to join forces in a venture to build a New batch of "Otter" frames, using one of the Foster original frames as a pattern for the New Jig.
These became known has the
Faber... BSA and Triumph"Otter"...
And sold mostly through Sammy Miller Motorcycles Trials outlet, eventually this became known has Sammy Miller Products.
But some sold direct from Faber Frames...
One hundred of these Faber built frames were sold quite quickly for something from a minority sport. like "Classic Trials".
Sammy eventually went his own way, and had "Otter" frames of his own made for a while, These were the Sammy Miller BSA Otter's...
There are still some of these that are still used, and can be spotted because of the bolt on sub-frames fitted.
To satisfy the powers that be in the Scottish Pre 65 trial at the beginning of May every year, Howard from Faber Frames came up with a Mk 3 version of his "Otter" frame.
This frame although mostly in the spirit of the original frame now had added engine under-run rails, and a bent spine frame, more like a BSA C15 but of bigger section.
I feel Now in 2015 it is time for a New batch of the Faber MK2 frames and I am going to do my best to persuade Howard at Faber Frames, to build a New Batch
of these...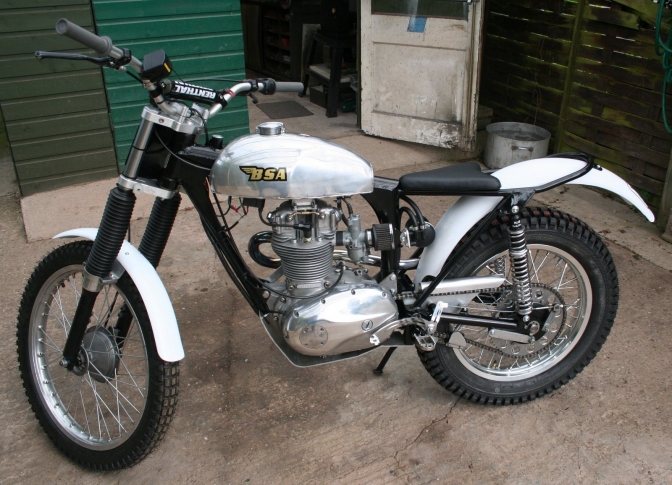 Photo Courtesy the late Pete Dawson.
This is a Mk 2 Faber "Otter" BSA built by Dave and his father Pete Dawson who also took the photo.
Thank's Guys...
The BSA Otter.Com. Frames.
After now owning a couple of Faber framed BSA Otters, I decided to have a go at building my own frame.
I started with a replica of the original Scott Ellis British Experts Winning machine,
Working with only a picture in the Don Morley book,
"Classic British Trials Bikes".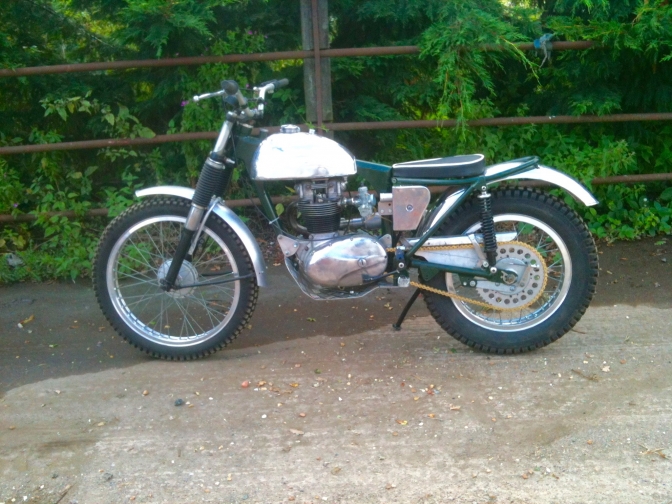 The Scott Ellis Replica 250 BSA...
I then built the Pat Slinn designed frame for the
"Top-Cat" Triumph TR20 Cub.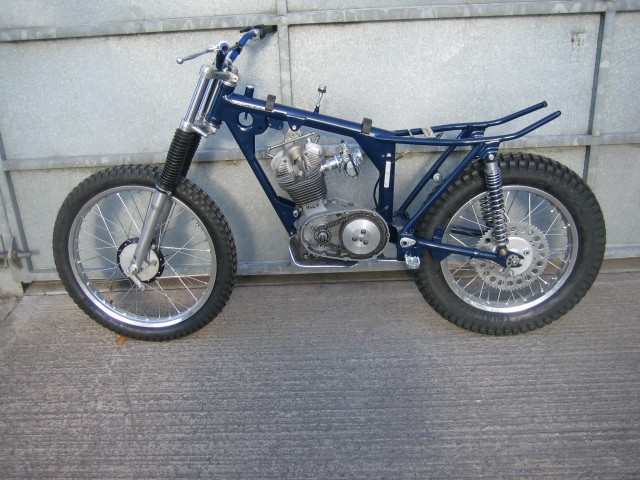 Top Cat Triumph TR20 Cub during build up...
After this machine was built using a frame jig that I had made, I decided after a conversation with a friend to see how cheap I could build a "Otter" frame.
This was the
"OOTC" (Otter-On-The-Cheap)
bike below.
Other "Otter" frames were built including one built from
Square tubing, the
"SQ" framed Otter machine.
~~~~~~~
We now also have the Foster Original frame jig, so that production can restart with these frame to the Original Specification.
If there is Interest...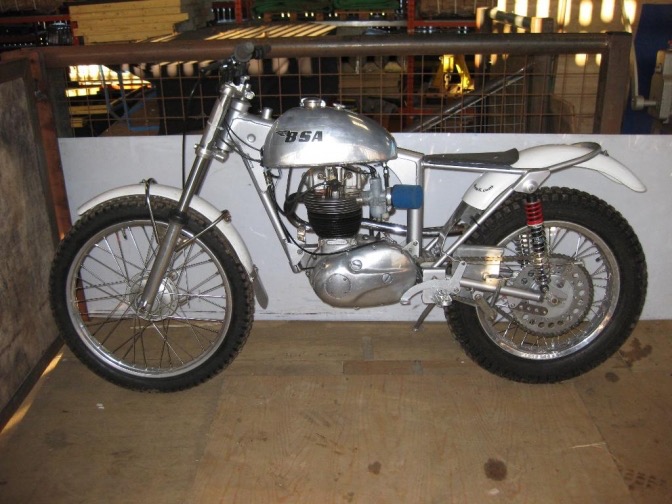 Photo Courtesy Otterman. "Otter On The Cheap"..
So on these pages there is, as I have said, all the information to go ahead and have a go at building your own machine from scratch, if you wish, and many using this site for guidance now have.
We now in 2016 add a new frame builder to the list of people producing
Scott Ellis Replica frames.
His Name is Harry Stitt, from Northern Ireland.
Harry Stitt BSA Frames.
Harry is only 20 years old, educated at the Belfast Royal Academy.
He is some sort of magician with a welding torch at this age, and has been building BSA frames for some time and has a reputation for the quality and design of the frames.
Not only that but he proves them himself by riding Classic Scrambles.
There is a page for Harry Stitt BSA Otter, check it out.
We now have someone capable of keeping the BSA Otter name going forward for the future...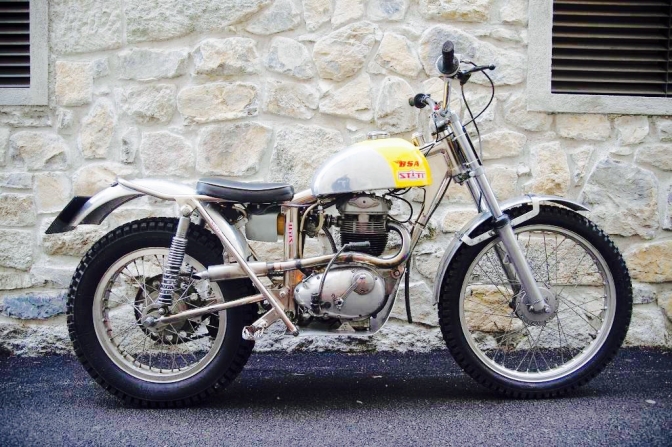 Photo Courtesy Justyn Norek Snr.
This Harry Stitt BSA is the new Acquisition of Justyn Norek Junior.
Not only that but due to interest in every thing "Classic Trials Machines", we now cover not just only the BSA "Otter" and other BSA machines but other forgotten brands from both home and abroad, in fact from the World...
Here are three examples that are already within these Pages.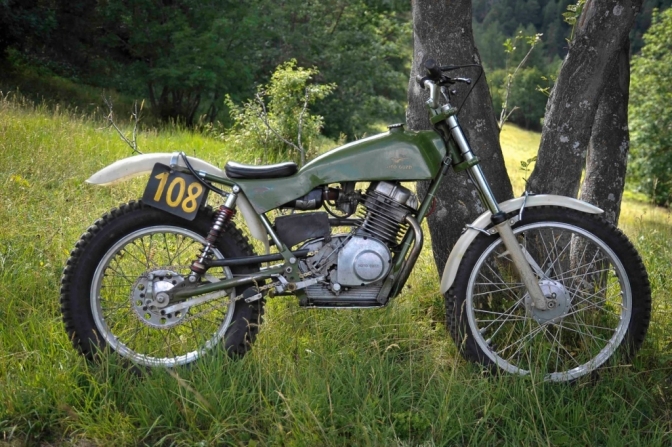 The Moto Guzzi...
Photo Courtesy Justyn Norek...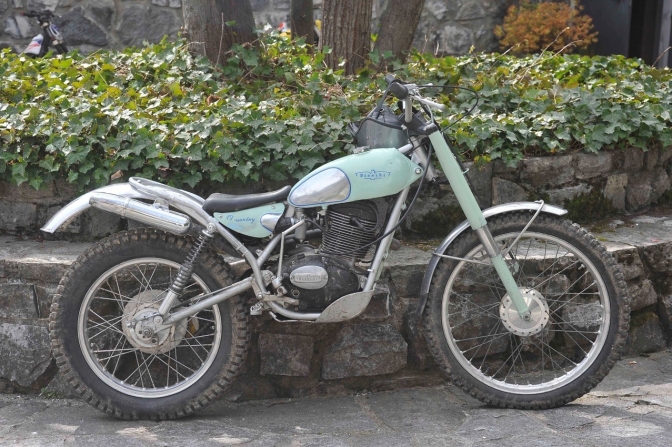 The Bianchi...
Photo Courtesy Justyn Norek...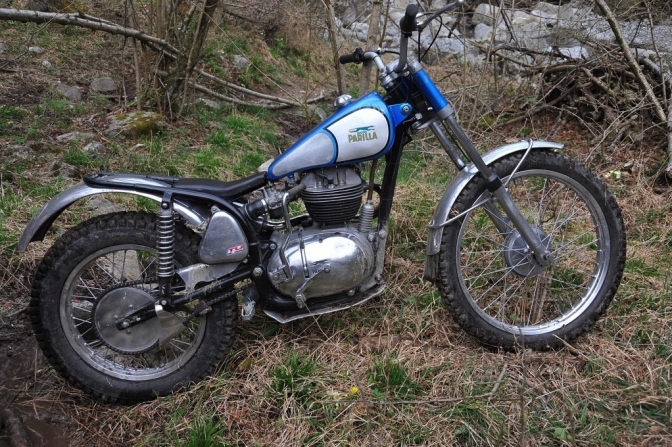 The Parilla...
Photo Courtesy Justyn Norek...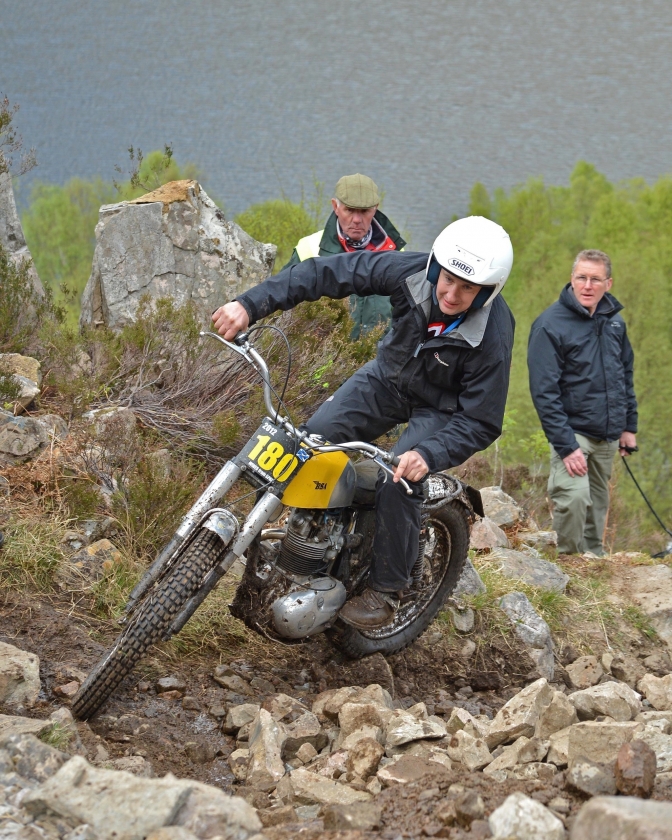 Photo Courtesy Jack Knoops and "Offroad-Archives".
We will also cover some of the more interesting creations of steel and metal that eventually became the Star machines of not only the Magnificent British past but from the entire "Classic Trials Motorcycle" scene of the World...
The machine above is the ex Brian Martin BSA C15 being ridden in the 2012 Pre 65 Scottish.
by Andrew Paxton, for owner Edward Freeman...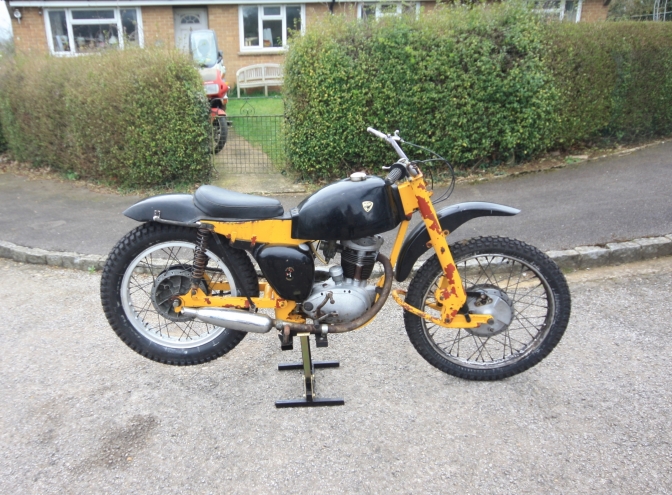 Photo Courtesy "Otterman"©
We also have pages of "One Off" built Classic Trials bikes, all very interesting...
Above a home built "One off" BSA engined
Scorpion©.
Story on the Scorpion Page.
~~~~~~~
So Enjoy your journey through these many Interesting Pages...
If you have any questions you may need answering about the BSA Otter Breed, or any other Classic Trials machines, or this website, Just Ask Me, by contacting me through the email address below, Or the Contact Page...
char7748@tiscali.co.uk
Pages will be updated weekly. And New Pages added all the time.
So call back won't you.
We are here for You.
And to Help preserve the "Classic Trials bike Scene" that is our Heritage.
So enjoy our many pages, and there is interest not just for the "Classic Trials Rider."
But Tales about growing up in the trials country of North Oxfordshire, and Yorkshire, and Wales,
and even more to come.
later...
~~~~~~~
So I hope you enjoy finding something interesting to you,
amongst these many Pages.
And If you have suggestions for more >contact me at char7748@tiscali.co.uk
Regards Charlie.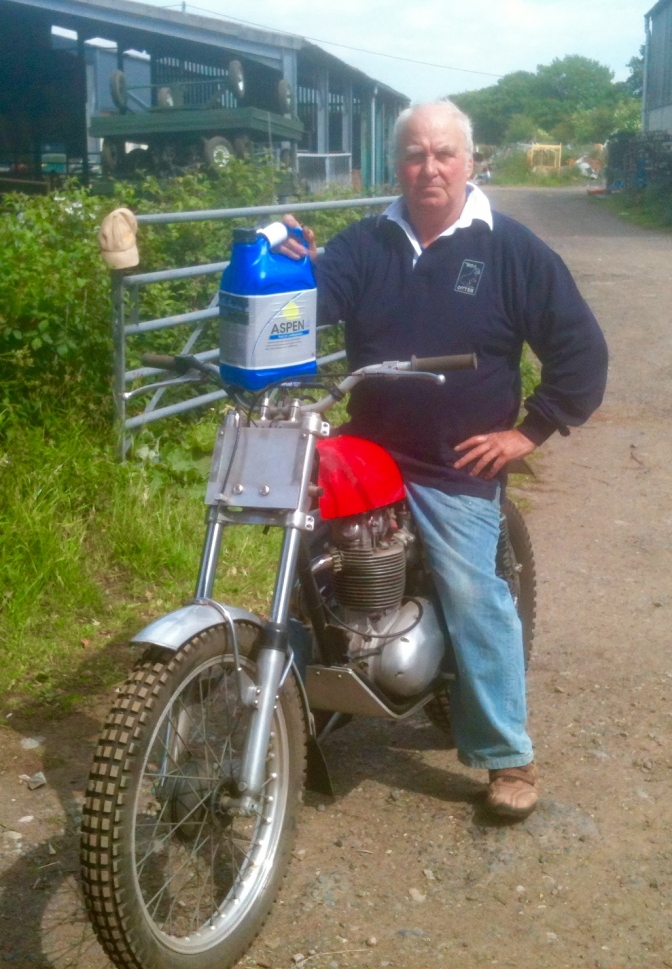 Charlie Prescott aboard the Paul Beswick built Faber BSA B40 Otter...
~~~~~~~
Also Check out the Pages on the
Mini-Otter ® builds...
We still think this little bike is part of the future of Motorcycle trials, Both here and abroad...